THE STORY BEHIND THE CROWN POINT PORTFOLIO
The History of Crown Point's Branding
The naming of anything can be the biggest challenge someone can enounter. You face questions like "Will the name resonate?" and "Will the name be the right fit for a brand?"
That was the case when our proprietor, Roger Bower, set out to start the winery we now fondly know as Crown Point. Here's the story of the name behind our portfolio.
After Roger purchased the estate in 2012, he was sipping his favorite Cabernet as he enjoyed the views from the beautiful arbor at his home. This scene, almost parallel to the view of Crown Point's highest elevation of 930 feet, was the moment he would name his wine — Crown Point.
Roger shares, "As you can imagine from the breathtaking views I felt like I had discovered the jewel of Happy Canyon. I immediately thought of Crown Point and checked if it was taken, and luckily it was not."
What was Roger's next challenge after naming the estate? Creating the perfect logo that would represent the brand that he always envisioned. Roger notes, "While enjoying those same views, I also designed the Crown Point logo on a napkin. Naturally, when I requested family and friends to help design a logo for Crown Point, I received a lot of Crowns. Being from Texas where I raised Wagyu and Angus cattle, I wanted a logo that resembled the imprint of a branding iron. I designed the Crown Point logo quite simply. The top lines above the CP represent the mountain range because it is so significant to where we are and why our estate is so unique. The bottom v shape stands for vineyards because without these vines we would not be able to produce our terroir-driven wines."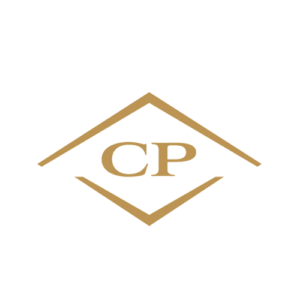 Crown Point's Estate Wines
Each Crown Point release is a pure representation of the specific and diverse terroir from our vineyard. Every year we are blessed with stunning wines from amazing growing seasons.
For Roger, selecting names for the wines produced on the property came as a challenge. He came up with a list of wine names that he loved, but hit a road block when every name he liked was already taken.
Crown Point's Relevant Red
After countless failed attempts, Roger received his inspiration as he was tasting barrel samples blended together. He found himself repeating that Cabernet Sauvignon is a must for this blend. The Petit Verdot is relevant for this blend. The Malbec is relevant for this blend. The Syrah is relevant for this blend. As Roger continued to taste the wines, he fell in love with the idea of calling it a relevant wine, and the name "Relevant Red" was born.
The inaugural vintage of Crown Point's estate Relevant Red was in 2013. This wine will always have a special and relevant place in Roger's heart.
Crown Point's Estate Selection
After the first vintage of the Relevant Red, Roger dreamed of an estate blend to have a name that truly represented what the wine encompassed. As he continued each day to look over the property from the original site, he reflected on why this is all possible. In Roger's eyes, this was all possible because as a team they had taken every component from the estate to craft each bottle of wine, produced at Crown Point. From that moment in 2014, he knew that the estate blend's name would be the Estate Selection.
Crown Point's Cabernet Sauvignon
Cabernet Sauvignon , as we all know, is one of the best red wine grape varieties in the world, and thrives in diverse climates and growing conditions. At Crown Point, we produce 12 different varieties of Cabernet Sauvignon planted throughout our 50 acres, typically planted on the rockier hillsides where vines have never been planted before.
Roger is always up for a good challenge. One great skepticism he faces is the growing of premium world-class Cabernet from Happy Canyon of Santa Barbara AVA. Trust us, take one sip of a Crown Point Cabernet Sauvignon and your palate will instantly fall in love with any vintage of this full and beautifully-crafted wine.
The Future of Crown Point Vineyards
To Roger, the sky's the limit. He is fully committed to producing wines that will have the honor of receiving a 100-point rating.
We are thankful to have the right soil conditions and an excellent team dedicated to farming techniques under the guidance of our Consulting Winemaker, Philippe Melka. We are continuously analyzing each and every barrel to produce the best blend of the Estate Selection and of the Cabernet Sauvignon. The best is yet to come from us.
What is the biggest obstacle for Roger? Patience.
Everyone who knows Roger knows he is not a patient person. That's precisely why this property and this project work for him. The wines are crafted to be enjoyed now and for years to come, made possible in part due to the 50-degree temperature change between day time and nighttime lows.
Each wine shows a great amount of complexity with subtle tannins that have a finish with a velvety mouthfeel. We never try to craft one wine to be more superior, we strive to craft two unique expressions from this estate.
How our Winemaking Team Enjoys Crown Point's Wines
Our Consulting Winemaker, Philippe Melka, and our Winemaker, Simon Faury, love how the wines from each vintage continue to complement a variety of spices.